Tuxedo - Limited Edition
القارورة
يُطلّ عطر توكسيدو، الأشهر ضمن مجموعة عطور لو فيستيير دي بارفان، في قارورة حصريّة للغاية وفائقة الروعة، في أول إصدار منه لهواة جمع القطع المميّزة. ويُجمعُ هذا الإصدار بين أيقونتين:
عطر توكسيدو، وواحدة من أنجح مجموعات أزياء إيف سان لوران: مجموعة "ذا موندريان" التي تجسّد الخيال الفنّي والمعماري للسيّد سان لوران. 2000 قطعة فريدة تزيد من روعة تصميمها خطوطٌ هندسيّة تتّخذ شكلًا مميزًا متناسقًا تمامًا مع شكل القارورة.
النفحات العطريّة
يتّسم عطر توكسيدو بسحر آسر، تمامًا كما البدلة الشهيرة التي يحمل اسمها. تفيض نسمات الباتشولي الفاخرة جاذبيّة، أمّا النفحات التابليّة الشاعريّة الغامضة فلها تأثير فاتن ومُحفّز. أناقة عصريّة دائمة التجدّد، تميّزها لمسة خاصة من الجرأة.
رمز من رموز عالم الكوتور
في عام 1966، جسّد إيف سان لوران تصوّره الخاص لبدلة التوكسيدو عبر تحويلها إلى قطعة مميّزة للنساء. من خلال الجمع بين التأثير القوي للخياطة الرجاليّة والجاذبيّة الأنثويّة، قدّم المصمّم أسلوبًا جديدًا في عالم الكوتور النسائي، يحمل طابعًا ذكوريًا.
مجموعة لو فيستيير دي بارفان
إشادة بأسلوب إيف سان لوران. توكسيدو، ترنش، بلاوز... يجسّد كلّ من هذه العطور المناسبة للنساء والرجال قطعة أساسيّة من بين تصاميم الأزياء الشهيرة التي تحمل توقيع إيف سان لوران. تشكيلة عطور فاخرة وفريدة تمنح إمكانيّة التعبير عن الهويّة والفرادة، وتعكسُ جوهر الأناقة في صياغات عطريّة.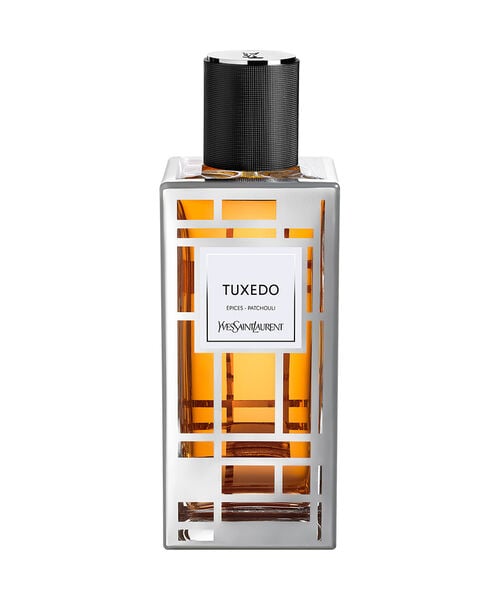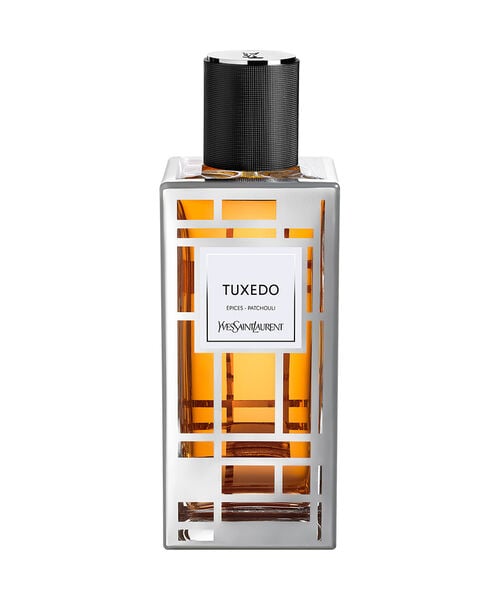 Tuxedo - Limited Edition
القارورة
يُطلّ عطر توكسيدو، الأشهر ضمن مجموعة عطور لو فيستيير دي بارفان، في قارورة حصريّة للغاية وفائقة الروعة، في أول إصدار منه لهواة جمع القطع المميّزة. ويُجمعُ هذا الإصدار بين أيقونتين:
عطر توكسيدو، وواحدة من أنجح مجموعات أزياء إيف سان لوران: مجموعة "ذا موندريان" التي تجسّد الخيال الفنّي والمعماري للسيّد سان لوران. 2000 قطعة فريدة تزيد من روعة تصميمها خطوطٌ هندسيّة تتّخذ شكلًا مميزًا متناسقًا تمامًا مع شكل القارورة.
النفحات العطريّة
يتّسم عطر توكسيدو بسحر آسر، تمامًا كما البدلة الشهيرة التي يحمل اسمها. تفيض نسمات الباتشولي الفاخرة جاذبيّة، أمّا النفحات التابليّة الشاعريّة الغامضة فلها تأثير فاتن ومُحفّز. أناقة عصريّة دائمة التجدّد، تميّزها لمسة خاصة من الجرأة.
رمز من رموز عالم الكوتور
في عام 1966، جسّد إيف سان لوران تصوّره الخاص لبدلة التوكسيدو عبر تحويلها إلى قطعة مميّزة للنساء. من خلال الجمع بين التأثير القوي للخياطة الرجاليّة والجاذبيّة الأنثويّة، قدّم المصمّم أسلوبًا جديدًا في عالم الكوتور النسائي، يحمل طابعًا ذكوريًا.
مجموعة لو فيستيير دي بارفان
إشادة بأسلوب إيف سان لوران. توكسيدو، ترنش، بلاوز... يجسّد كلّ من هذه العطور المناسبة للنساء والرجال قطعة أساسيّة من بين تصاميم الأزياء الشهيرة التي تحمل توقيع إيف سان لوران. تشكيلة عطور فاخرة وفريدة تمنح إمكانيّة التعبير عن الهويّة والفرادة، وتعكسُ جوهر الأناقة في صياغات عطريّة.
Description & Benefits
THE BOTTLE
The most iconic fragrance of Le Vestiaire des Parfums, TUXEDO, gets adorned in an ultra-exclusive jewel bottle for it first collector edition.
An encounter between two icons:

TUXEDO, and one of the most successful YSL Fashion Collections: The Mondrian Collection, evoking the artistic and architectural imaginary of Monsieur Saint Laurent.
2000 unique pieces enhanced with geometrical lines creating an outstanding pattern made to match Tuxedo's shape perfectly.

THE OLFACTION

Tuxedo captivates just like the iconic suit whose name it borrows. The lushness of Patchouli attracts and embraces while the sensual mystery of Spices mesmerizes and arouses. A contemporary elegance perpetually reinvented with that particular impertinent touch that makes it so unique.

A COUTURE ICON

In 1966, Yves Saint Laurent invented his version of the Tuxedo by turning it into an icon for women. Matching the authority of masculine tailoring with sensual femininity, he introduced a new androgynous attitude in couture.

LE VESTIAIRE DES PARFUMS

A tribute to YVES SAINT LAURENT's style. Tuxedo, Trench, Blouse... each unisex fragrance interpreting a centerpiece of the emblematic Yves Saint Laurent wardrobe. A unique and luxury olfactory wardrobe to give the power to express identity and uniqueness where quintessence of style becomes fragrance.


Perfumery Notes
Top notes: Violet leaves accord - Bergamot essence - Coriander essence

Heart notes: Pink pepper essence - Black pepper essence

Base notes: Ambregris essence - Patchouli heart - Bourbon vanilla